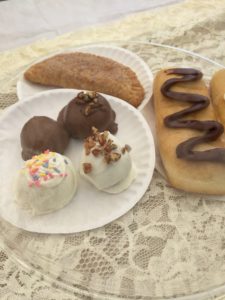 Our vendors offer a variety of food and drink every year! Local restaurants and caterers offer a delicious combination of ethnic items and family favorites. We even have gluten-free and vegan options!
2019 Food Vendors
The following vendors have signed up for #TasteMoCo2019 so far. New menus are coming in weekly, so this list will be updated frequently.
We are delighted to have several new food vendors this year. Joining us for the first time are Bravo Fernandez, Francis & Mount, Pastries Plus, and Wildfire348!
2019 Drink Vendors
We also have new drink vendors joining us this year! Francis & Mount will be serving wine and domestic beer. Sugar Creek Winery, which has a tasting room in Carmel, Indiana, will be serving wine made from grapes grown in northeast Montgomery County.
---
2018 food vendors
2018 drink vendors
Our 2018 drink vendors included two craft breweries and a local winery.