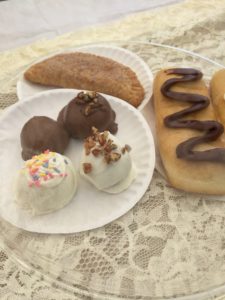 Our vendors offer a variety of food and drink every year! Local restaurants and caterers offer a delicious combination of ethnic items and family favorites. We even have gluten-free and vegan options!
2021 Food & Drink Vendors
Download a PDF of the 2021 menu at the button below!
Jesús Kettle Korn
Lew Wallace Study Preservation Society
Download the Menu
---
2019 Food Vendors
The following vendors participated in the 2019 TASTE.
Barefoot Burger
Bravo Fernandez Tacos
China Inn
Francis & Mount
Hawg Wild BBQ
Hoosier Ice Queen
Jack's Donuts
Jesus Kettle Korn
The Juniper Spoon
Shannon Family Farms
Sunoco Crawfordsville
The Warehouse Bakery
Wildfire348
2019 Drink Vendors
We also have new drink vendors joining us this year! Francis & Mount will be serving wine and domestic beer. Sugar Creek Winery, which has a tasting room in Carmel, Indiana, will be serving wine made from grapes grown in northeast Montgomery County.
Backstep Brewing Company
Coal Creek Winery
Francis & Mount
Lew Wallace Study Preservation Society
Sugar Creek Winery