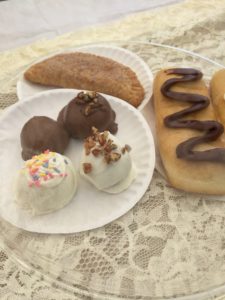 Our vendors offer a variety of food and drink every year! Local restaurants and caterers offer a delicious combination of ethnic items and family favorites. We even have gluten-free and vegan options!
Past Food Vendors
The following vendors participated in the 2019 TASTE.
Barefoot Burger: Ribeye Sandwich (4)
Bravo Fernandez Tacos: Taco de Asada (2); Taco Gringo (3)
China Inn: Crab Rangoon (2); Chicken Skewers (3);Spicy Crab Sushi Rolls (4)
Francis & Mount: Shrimp Skewers (4); Steak Skewers (4); Hummus & Pita (4)
Hawg Wild BBQ: BBQ Pork (4); Brats (4); Roast Hog (4); Baked Beans (2); Coleslaw (2)
Hoosier Ice Queen: Hawaiian Ice (3)
Jack's Donuts: Donuts (1); Gluten Free Donuts (2); Apple Fritters (2); Smoothies & Frappes (4); Brewed Flavor Coffees (2)
Jesus Kettle Korn: Original Kettle Corn (4); Caramel Corn (4); Lemon Shake-ups (4)
The Juniper Spoon: Lamb Curry w/Rice (4); Eggplant Curry w/Rice (3); Dahl-Coconut Lentils (3); Cucumber Tomato Chickpea Salad (2); Meadow Mint Tea (2)
Shannon Family Farms: Hoosier Muffuletta Sandwich (3); Grilled Italian Melt Sandwich (3); Vegetarian Rainbow Chopped Salad w/Honey Vinaigrette (2); Rainbow Chopped Salad w/Bacon & Honey Vinaigrette (2)
Sunoco Crawfordsville: Pork Tenderloin Slider (4); Chicken Tender w/Sauce (3); Fried Mushrooms (3); Vidalia Onion Rings (3); Funnel Cake Fries (3)
The Warehouse Bakery: Audrey's Gourmet Cake Slices (2); Fruit Blossom Pastry (2); Sticky Bun Delight (1); Cinnamon Roll (1)
Wildfire348: Three Cheese Pizza (2); Pepperoni Honey Pie (2); Caramelized Onion & Bacon Pizza (2); Chicken, Artichoke & Pesto Pizza (2); Berry Mascarpone Dessert Pizza (2)
2019 Drink Vendors
We also have new drink vendors joining us this year! Francis & Mount will be serving wine and domestic beer. Sugar Creek Winery, which has a tasting room in Carmel, Indiana, will be serving wine made from grapes grown in northeast Montgomery County.
---
2018 food vendors
Jesus Kettle Corn
Norvell BBQ
2018 drink vendors
Our 2018 drink vendors included two craft breweries and a local winery.
Lew Wallace Study Preservation Society (cold drinks)