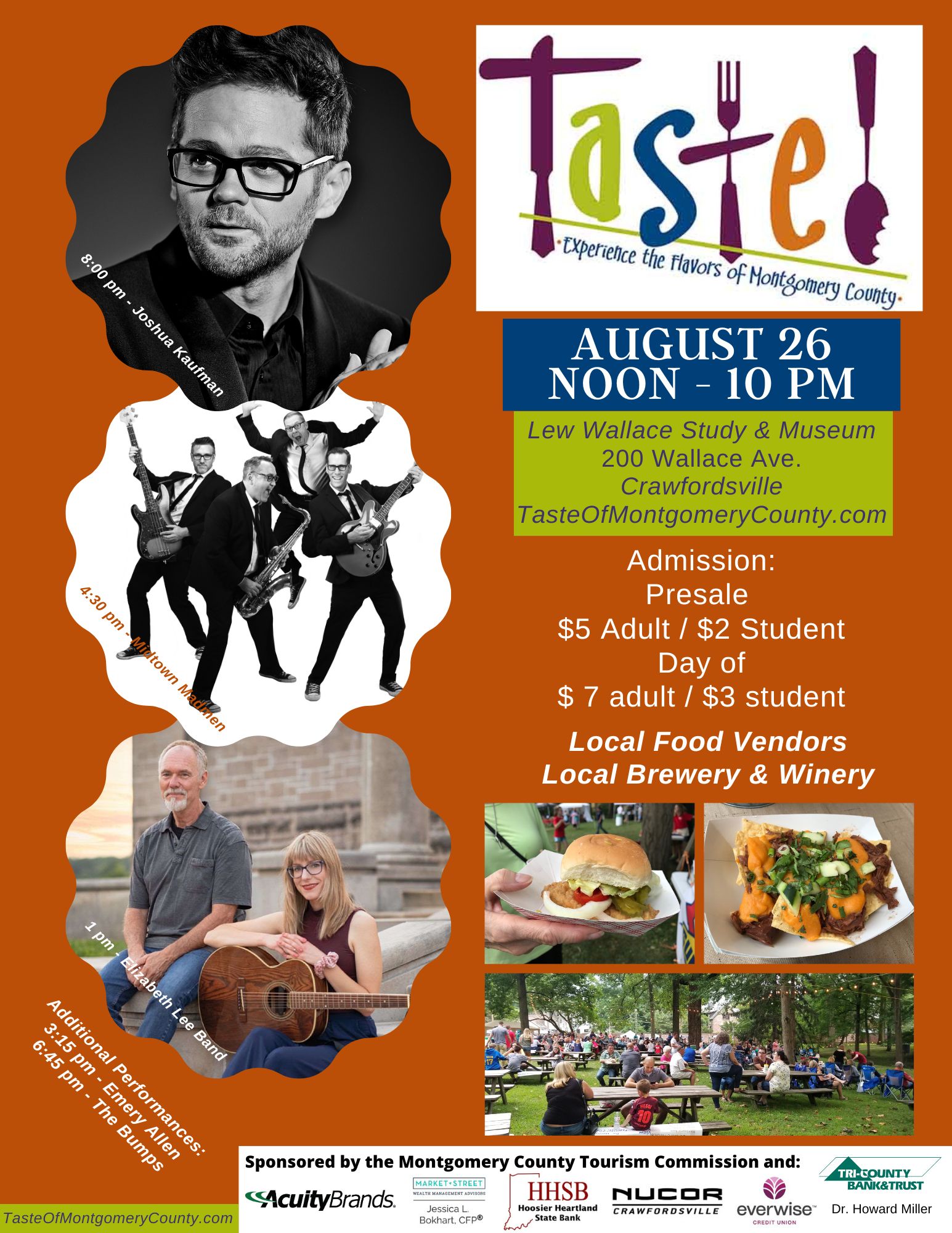 Welcome to the Street Team! Help us spread the Word!
Join us on social media and keep up with the latest news about the TASTE while helping us spread the word! You can also join our TASTE Street Team by downloading and sharing our images on various social media networks. We will have printable flyers, sample email text, and images formatted specifically for Facebook, Twitter, Pinterest, and Instagram!
Facebook: TasteOfMontgomeryCounty
Twitter: @TasteMC – Tweet with us about the event using the hashtag #TasteMoCo2023!
This summer we have flyers and graphics for you to share!
Ask your local library, church, community center, or convenience store if you can post this on their bulletin board. Print out posters and flyers to distribute to friends.
Download a TASTE flyer to print
Do you have a family member who might be interested in coming to Crawfordsville for the TASTE? Print this out and mail it to them. Everyone likes getting fun mail!
Download
Sample Email Text
You can really help us out by emailing your friends and family about the TASTE. Here's some sample email text you can copy, paste, and edit:
I'd like to invite you to the TASTE of Montgomery County on August 26! The TASTE is a fun festival with great local & regional music and a medley of flavors from Montgomery County restaurants, caterers, and food vendors. It's a lot of fun and runs from noon to 10 pm with three musical acts. Admission is only $7 for adults ($5 pre-sale) and $3 for students, and children six & under are admitted free.
The TASTE is the biggest annual fundraiser for the General Lew Wallace Study & Museum, providing much of the operating budget for them to engage visitors and teach people more about Lew Wallace, a Civil War general and author of Ben-Hur. This cause is important enough to me that I'm part of the TASTE Street Team, helping to spread the word about their fundraiser and mission. The building won't be open during the festival, but I promise it's worth a separate visit!
I'll be going to the TASTE, and I hope you'll join me. It's a lot of fun!
For Facebook
These #TasteMoCo2023 images are specifically sized for Facebook. Click the thumbnail to view & download the full-size image.
For Twitter
These #TasteMoCo2023 images are specifically sized for Twitter. Click the thumbnail to view & download the full-size image.
Make a Suggestion
Do you have an idea for the TASTE Street Team? Let us know! Comment here or email us at study@ben-hur.com!