2021 Music
Highland Reign – 1 – 3 pm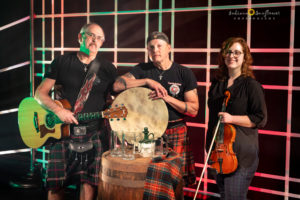 Highland Reign consists of Leslie Miller, Patrick Norris, and Sarah Yingst. An international touring Scots American folk rock band from Indianapolis, Highland Reign takes the tunes of the old country and breathes a rocking new life into them. Performing traditional songs such as "My Heart's in the Highlands," originals like "Kirk in the Heather" and "The Streets of Edinburgh," and many more, Highland Reign has become one of America's favorite Scottish folk rock bands. With wailing bagpipes/guitar tunes, lilting fiddles, and upbeat vocals, highland reign will rock you back to the old country!
---
War Radio – 4:30 – 6:30 pm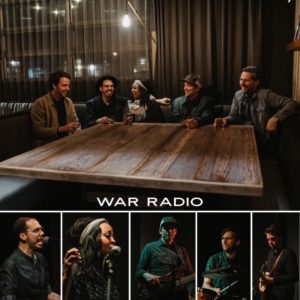 Joel and LaToshia Everson will be joined by band members Lorin Lemme, Jay Kirkpatrick, and Kevin Killeen. Hailing from Greencastle, War Radio is a local favorite!
War Radio is a band who truly believes music is transformative, which is evident in their performance and passion for creating a memorable music experience. Their sound is a blend of indie rock, soul, and melody. The group's dynamics create an energy that is palpable. A night spent with War Radio is one that engages and invokes vibe and heart.
Each member of the outfit carries a unique musical inspiration which is evident in both their original and cover songs. This group is full of raw talent, ambition, and emotion. The heartbeat of their signature sound derives from being raised in small towns, and relying on music as the outlet to a bigger world. Dreaming up new worlds, imagining the unknown, and envisioning the impossible are clearly seen in the lyrics of their original songs. As a listener, you truly become swept up in what is a wonderful time.
---
Strawbury Jam – 8 – 10 pm
Modern Country music has captured the hearts of Americans! Strawbury Jam will capture yours with their renditions of songs by Little Big Town, Kenny Chesney, Marin Morris, Carrie Underwood and Luke Combs – just to name a few! The chemistry of Strawbury Jam is palpable with the blazing artistry of Josiah Bryan on guitar, Mike Christen on drums, Vince Petroy on bass guitar, and power packed vocals by Jenn Moe. In addition to this fantastic line-up, Tim Wright, of The Wright Brothers, will add his incredible talents by playing steel guitar, dobro, banjo and harmonica at the 2021 TASTE of Montgomery Festival. Be ready to have a good 'ol country time with Strawberry Jam!
---
Past Music
Past performers at the TASTE of Montgomery County have been popular and award-winning artists, including Jennie DeVoe, Highland Reign, The Half Step Sisters, Laughing Jack, Maddie and the Roadies, Django Knight, Olga Berezhnaya, Flannel Jane, the Jason Wells Band, Steve Trent and Smalltown, the Big Swing Band, Emily Ann Thompson, the Leadsmen, the Balhinch Bunch, Him & Her, Nuthatch, Michael Kelsey, KSW@G, Healing Sixes, Cool City Band, Green Room Rockers, Midnight Special, Gordon Bonham, Woodstove Flapjacks, Tad Robinson, Diamond Hill Station, and the Dane Clark Band.
---
Interested in Playing the TASTE?
The TASTE Committee selects TASTE performers in January each year. If you are interested in being considered for the 2022 TASTE! of Montgomery County, please send a media kit to the TASTE Committee for evaluation. No phone calls please.
Mailing address:
TASTE of Montgomery County
PO Box 662
Crawfordsville IN 47933
Email contact:
---